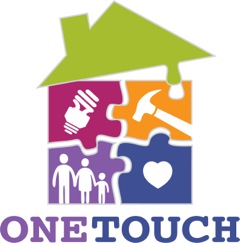 One Touch: Creating Healthy and Energy Efficient Housing
One Touch is an e-referral program that connects health, energy, and housing home visiting and repair programs to cost-effectively improve health outcomes and reduce home energy use.   Government and non-profits partners that "touch" homes use a common home Check Up tool and e-referral system to identify conditions triggering referrals or changes to the services delivered.
As a result:
Programs reduce administrative costs.
Clients, particularly high health care utilizers and energy users, get the help they need.
Programs partner cost-effectively deliver services.
Piloted in New Hampshire, One Touch program is now used by five other communities: Omaha, NE; Minneapolis, MN; Greensboro, NH; Fitchburg, MA; and Vermont.
"At least 50% of the homes we visit need other services. Collaborating with our local government and non profit partners through One Touch creates an effective network."  
Kara Eastman, Omaha Healthy Kids Alliance
Interested in becoming a One Touch site, click here.